The XBR220 frame is designed to be the lightest and fastest 6" prop frame in the world. The goal of this frame is to win the worlds fastest races.
XBR220 Carbon Fiber Frame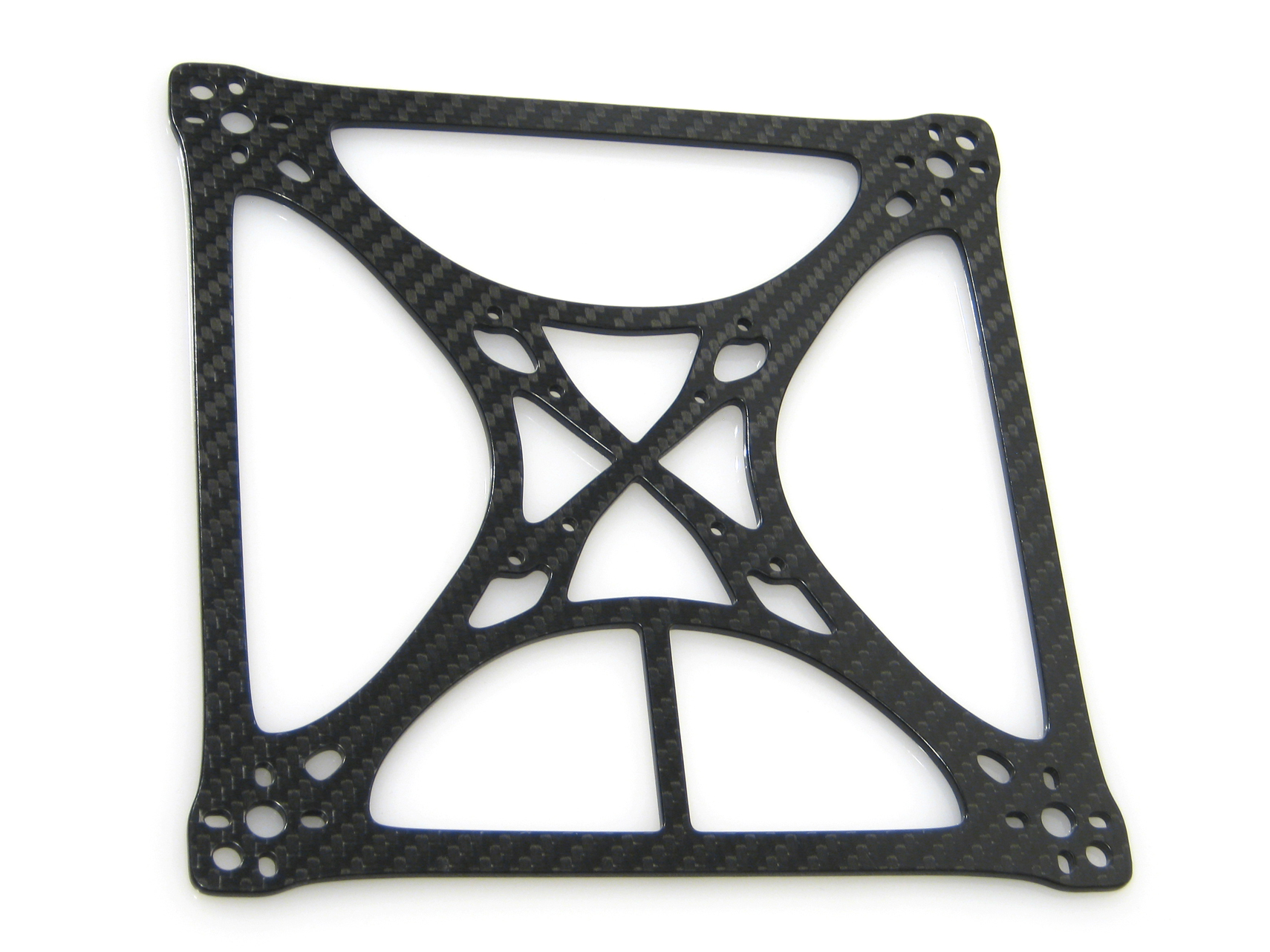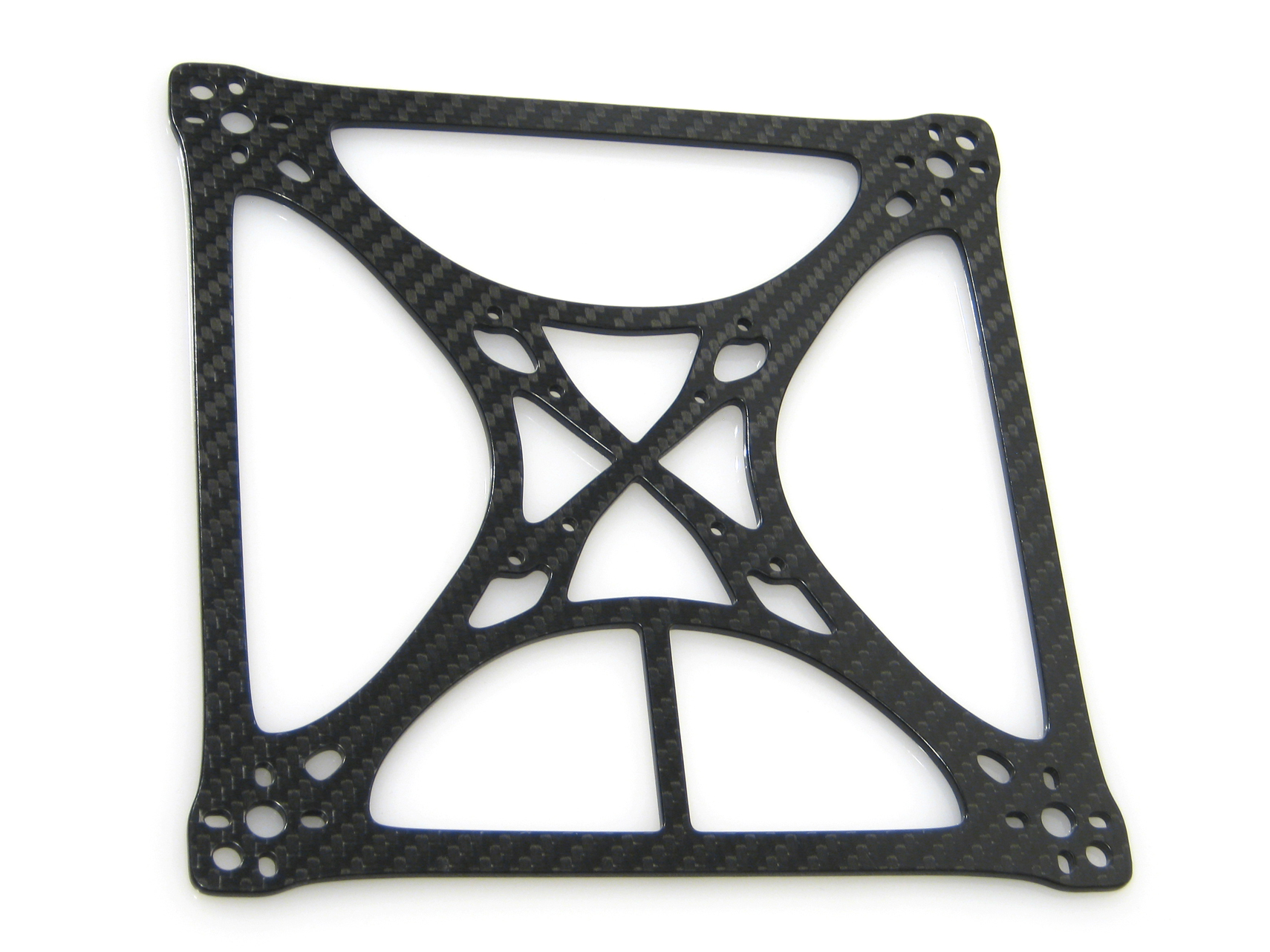 XBR220 Carbon Fiber Frame
3mm Weight = 59g
4mm Weight = 77g
Breaking the mold from traditional H frames, this pure X quad was designed with the most meticulous attention to weight and mass distribution, allowing for top speeds and agility never before seen in multirotors.
Using our recommended build, the XBR is capable of more than a 12 to 1 power to weight ratio, that's nearly double that of a comparably sized racing quad!
The XBR swings 6" on 2204 2300kv motors, never before possible with other heavy quadcopter builds. With our light weight frame and building techniques, the XBR sets a new standard for thrust and agility. There is not 1 gram of material that doesn't pull its weight on this racecraft.
Join us by building this high performance race machine and be a part of a new revolution in FPV racing.
This is the carbon fiber frame only. Click for Plastic Body or Hardware.
The XBR is a purpose build high performance racing quad, with no extra frills or fancy features. It was designed for speed and agility on the race course and nothing more. With inspiration from acrobatic quadcopters such as Soma's warpquad and flight styles of the great Warthox/Quadmovr, the XBR is an extremely capable FPV racing machine, as well as an amazing freestyle rig for tearing through the sky at ludicrous speeds. Breaking away from the mold of the H quad, Black Bolt has distilled the racing multirotor to its bare necessities, a symmetric X body shape with a centralized mass, allowing for a very stable yet nimble platform even at speeds upwards of 70+ MPH.






Smallest mass
Mass or weight is one of the biggest factors in any racing vehicle, but even more so for an aircraft. Tires grip a road directly in a car, but in the air you are moving through a compressible fluid. In order to have the dynamic response needed to win a technical race track, we have to overcome cutting through squishy air. Obviously the best way to do that is to have less to move. Aerial racecraft need to have the smallest mass they can get away with and still perform all the necessary functions to win a race. This was the idea behind the design of the XBR.

Unibody
The choice to use a one piece frame was a very important one. Yes it would be nice to bolt on a new arm when one breaks, also it is cheaper to make a frame with bolt on arms that can be nested better in a sheet. However the lack of bolts needed for this frame is how we accommodate the weight of FPV gear, and the design lends itself to not breaking arms. This is the biggest secret sauce of this frame. Minimal metal bolts! As racing evolves and the pilot skill increases, frame design will become much more important and none of the top pilots will allow that much hardware on their aircraft ever again.

The Box
With the choice for a unibody frame came the desire to bolster the arms for impact. Adding a box of carbon gusseting the arms, significantly increases stiffness and crash strength of the frame in both the horizontal and vertical plane. As an added benefit, the box also tends to influence the quad to roll in a crash, which is the best way to take energy out of an impact. There have been other frames to do this as well and they usually have aesthetically pleasing curves to them as they resemble a spider web. Those are very nice looking frames but the curve in the gusset adds unnecessary material and doesn't use the weave of carbon fiber effectively. Because of the increase in stiffness, thinner carbon fiber can be used, allowing for even lighter setups.

Smallest moment of inertia
The moment of inertia is a mathematical variable that describes the energy it takes to rotate an object. Having a centralized mass allows for the pitch and roll of the XBR to respond to control inputs in a balanced manner. With the centralized weight both axis are rotating around the middle equally, creating a quad that is responsive no matter the direction of the control input. A hard design rule involved keeping material on the outside of the frame as minimal as possible.

Symmetric X
The Symmetrical X design has quite a few positives. First of all it allows for the absolute smallest possible size that will fit the appropriate prop. The XBR fits 6" props on a 220mm MTM quadcopter. Along with the small size the X design helps reduce the pain of tuning, as the pitch and the roll axis will be identical to tune. Lastly, the symmetric X allows for the mass to be centralized creating more responsive and nimble racer.

Camera position
The whole point of the H quad was to spread the motors apart to leave a gap in the props to see through with a camera. That is an antiquated idea from a time where quads moved very slowly. Now we have racing and our average pitch during a flight is significant(20°-30°). That pitch gives the ability to position the camera above the two front props. To do that it is positioned near the rear of the aircraft allowing the front props to be well below the center of the screen and out of a distracting view. With the use of a wide angle lens, a flat horizon can still be seen for hovering even with a camera tilt of 30°.

3D Printed Hoods
3D printed hoods allows for unlimited modification. Any camera angle or accessory can be created for the XBR, future plans are to inset and integrate a Polaroid Cube+ into the hood of an XBR to get that buttery smooth 1080p 60fps that we all have grown to love in our FPV videos. But possibilities are endless, and we can't wait to see what everyone creates!
The hood for the XBR will always be available for download free for anyone who owns a 3D printer or has access to one. Remember many local libraries, schools and makerspaces now have 3D printers you are more than likely able to use. If that's too much trouble you can always purchase one through the Black Bolt store.

12:1
What we all care about, power! With our recommended build a thrust to weight ratio of 12 to 1. This kind of power is not common place yet in the multirotor industry and until it is there will be lots of people claiming your video is unnaturally sped up. Take this as the highest form of flattery while you blaze the sky and amaze the locals. This kind of power is not only for the top pilot either. You can fly quite conservative with this setup and only "tap into it" to recover from mistakes. There have been several testimonials that say they wish they could have learned on a quad with that much room for error, and that it would have helped them learn much faster.

It's a Big Whoop


Recommended Build:

Cobra 2204 2300kv
KISS 30a or comparable esc
Afro Mini or Naze32
Frsky X4R-SB
Pololu 5v 600mah Stepdown
RTFQ/MRM Mini PDB (http://www.multirotormania.com/power...ion-board.html)
PZ0420m 600TVL Mini Camera
Hawkeye 5.8ghz 200mw with SMA extension
HQ Prop 6x4.5
800-1300mah highest c rating lipo you can get(we go through a lot of 1000nanotech 45c)